Description
Say Goodbye to Shaky Videos with the new Moza Mini MX Gimbal for Smartphones with with "Deep Red" anti-shake algorithm.  It aims to deliver super-smooth professionally stabilized cinematic footage whether you are walking or running.
You can start filming in seconds all you need to do is just connect over your smartphone with the gimbal over Bluetooth and select a filming mode. Unlike traditional gimble that require complicated manual balancing steps the set up for the MOZA MINI MX gimbal for smartphones is quick and easy.
The MOZA Mini MX gimbal also offers access to basic camera controls, making creative Keep an eye on more comfortable. It offers Instant Portrait and Landscape Transition by triple press the power button to easily switch between portrait and landscape filming to quickly adapt to various shooting scenes, so that you will never miss the action.
The Moza Mini MX Gimbal for Smartphones has an integrated button panel that has a simplistic layout which allows you to control the camera easily and intuitively with one hand operation.
The MOZA Genie App offers a linear editing system packed with tools generally found on professional editing software. Functions such as Cut, Splice, Paste, Filters, Effects, Transitions, Music, Subtitles, and more. Now your smartphone can turn into a powerful editing desk with the MOZA Genie App.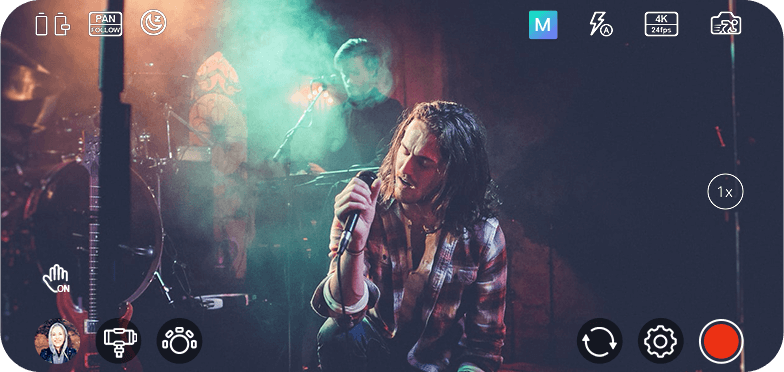 Keep your subject in focus at all times. Simply select the subject, set the focus area and let the camera do the rest. Your subject will stay in sharp focus even as it moves throughout the frame.
With the smart gesture control Enjoy hands-free shooting and simply compose your shot, mount your camera, and use simple hand gestures to trigger the shutter and start/stop recording. The spiral folding design of the MOZA Mini MX allows the gimbal to fit into the palm of your hand, a small handbag, or back pocket. The overall small travel gimbal.
Folding Size of the Moza Mini MX Gimbal for Smartphones : 145 * 50 * 180 mm which is super compact that can easily fit in your back pocket. The MOZA Mini MX was designed with the user's comfort in mind. Ergonomic set up allows you to shoot naturally in different angles to get the best shot. Continuous shooting is easy without strain on your wrist
Advanced Shooting Modes
The Advanced Shooting Modes of the latest Moza Mini MX Gimbal for smartphones includes the following;
Time-Lapse
Capture beautiful changing scenery and the passage of time in Time-Lapse Mode. Share events such as sunrise or sunset or a blooming flower in a unique and fun way.
Fast Tracking
Click the smart trigger and the intelligent algorithm built in MOZA Genie will automatically identify the object and lock it quickly, allowing you to track the moving object faster.
Slow Motion
Create Dramatic, poetic scenes in slow motion mode. Capture your audience with the emotion and essence of the moment.
Inception Mode
Create Movies with impact and emotion in Inception mode. with a dynamic rotating lens effect, create an aesthetic feel of changing space and atmosphere.
Using extensive user research, the MOZA Mini MX was designed to address and resolve the common challenges of mobile video creation. MOZA Mini MX puts the power of movie making in your hands with effortlessly.
Mount the MOZA Mini MX Gimbal to other accessories by using the 1/4 expansion interface. Connect to a tripod, telescopic extension rod and other accessories to expand your setup range and movie making possibilities.